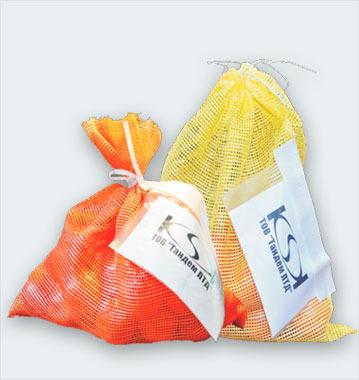 Polypropylene Woven Leno / Mesh Bags are the most popular packaging material used for the storage, transportation, packaging and subsequent sale of products of agricultural and other industries (onions, potatoes, peppers, cabbage, carrots, beets, eggplants and other vegetables; toys and other piece goods; firewood for picnics) through the wholesale and retail networks.
Bags can be made of polypropylene yarns of red, blue, yellow, as well as other colors at the request of the customer. The top of the bag can be heat-cut or with sewn string. The bottom of the bag can be with a one-line or two-line seam.
Consumer characteristics:
lightness;

softness when contacting with vegetables;

products ventilation (reducing the risk of decay).
The most popular sizes:
Sizes, cm
(width*length)
Product weight, kg
25*50
5
30*50
5
40*45
5 - 10
40*60
10 - 15
50*55
10 - 15
50*80
15 - 20
50*100
20 - 25